Going around Africa to discover gospel Ministers contributing to the preaching of the gospel of christ through music is always a lovely experience. Each an everyone always has reason why they decided to venture in ministering. It could either be their life experiences or just the love for it.
Take a look at two African women – Rachel Namubiru and Hannah Mya, putting in enormous work to preach the gospel through through music.
Rachel Namubiru
Rachel Namubiru is a Ugandan gospel minister. She is a gospel and inspirational artist who loves the Lord. In 2010, she participated in the singing competition in East Africa called Tusker Project Fame, where she emerged among the runners up of the competition. After the competition, she started to work with her mentor Isaiah Katumwa who became her musical mentor from 2010 till 2013. In 2014, she worked with a Ugandan gospel band called Talanta Band, still under the management of her mentor Isaiah Katumwa until 2015, after which she decided to take a musical break to spend more time with her family.
Her musical break enabled her to grow and figure out herself out as a phenomenal woman and musician. She has been able to realize the things that are closest to her heart. During the musical break, she continued with ministering in churches and all over the world in various countries.
In March 2018, she resumed her musical career and worked with a team from Inura Music with whom she signed. She ventured into more humanitarian work, especially on grounds of gender, sexual orientation, religious or national divisions and projects working with the elderly and the children.
The vibrant Ugandan woman has an impressive career and is currently with an album to her name titled "Mwesigwa". She has stayed consistent in dropping back to back projects since she came back from her break in 2015.
Listen to one of her soul catching songs titled "Nzize"  released seven years ago.
Hannah Mya
Hannah Mya is a sensational gospel artist and minister who has been changing the narrative of gospel music. She's a multitalented lady, who presents herself as a dancer, singer and ministers the word of God excellently. Mya always thrills the crowd with her energy levels and vibrancy whenever on stage.
As a singer, she's richly blessed with a unique sharp and audible vocal which permits her to do praise and worship effortlessly. Most often, artists are only able to do worship songs, while others can only do praise songs, but Mya is a composition of both.
She's extremely creative and explains why she is changing the idea about gospel music commercially as she doesn't just want to just make a living out of her art. She intends to continue using this God given talent to convert more followers for the gospel. No wonder her lyrics are spiritually inclined and her flow is appealing.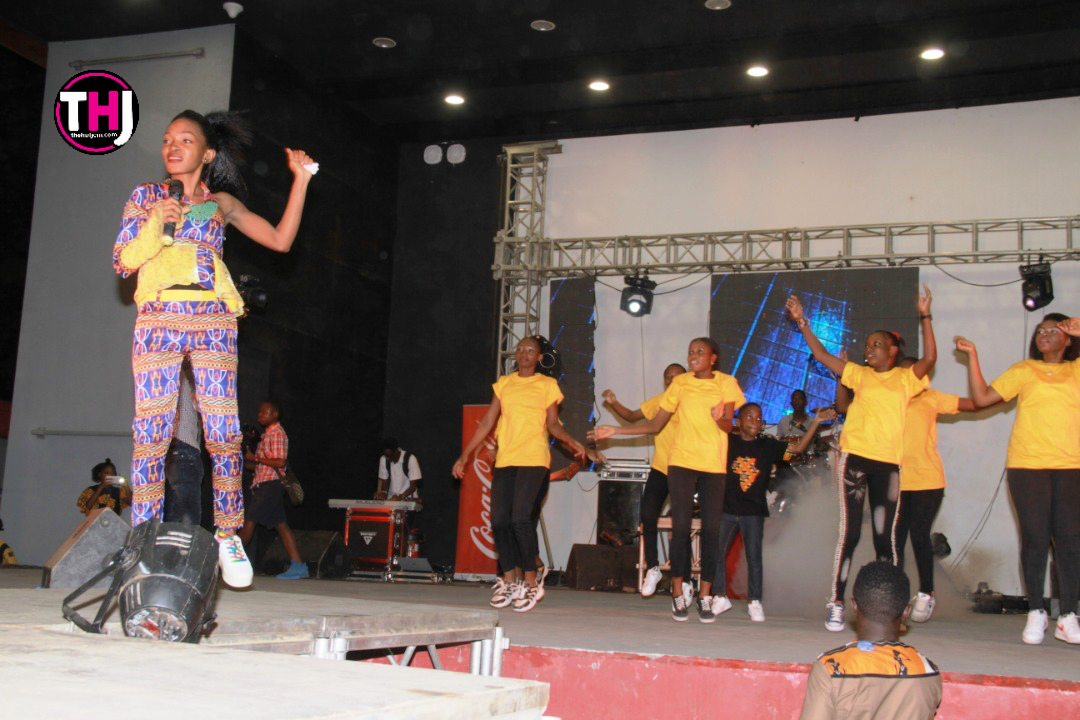 She is not where she might have lived to be with her potentials but the future is extremely bright for her given the work rate she's putting in to realize her goals.
She can sing in multiple languages, both English and French and is perfectly bilingual, making it easy for listeners of her music. One thing to note about her is that her performances in concerts are never ordinary. She has been exceptional every time she has mounted the stage.She's got the "Synach" kind of energy and charisma, but she might just be even more vibrant.
She was by far the most impressive Cameroonian gospel artist who performed at the "Ada in Cameroon Gospel Concert" with her ability to thrill the crowd. The concert took place in Douala, Cameroon on February 29, 2020.
With an album out titled "Je Remercie Dieu" which consists of six beautiful tracks, we have picked out "Ma Vie" from this album, which is an inspiration to her career as a minister and that is just a tip of the iceberg.